Welcome to Makercity Sewoon! Our mission is to introduce more people the value of urban manufacturing through innovation activities with industrial ecosystem around Sewoon Sannga district and creators, entpreneurs, to contribute inclusiveness and diversity in Seoul.
Why Makercity Sewoon
Makercity Sewoon ― The city of bright future of urban manufacturing
A cluster encourages new ideas, experiments and inventions
Makercity Sewoon has potential to thrive : an excellent manufacturing and distribution system, and located in the city center. This innovative hub equipped with all kinds of materials and staffed with many excellent technicians, is like a huge experimental lab for young creators. Sewoon Sangga specializes in electronic and mechanical devices. This includes fabricated metals, mechanical parts and materials, electronic design and production, electronic parts and tools. It allows Sewoon Sangga to support hardware start-up businesses. The lighting and construction materials industries in Euljiro, electronic and machinery metals businesses in Sewoon Sangga, packaging materials, wood and furniture industries in Bangsan Market, printing alley in Inhyeon-dong, fashion stores in Dongdaemun Market are all clustered together in this region. Walk around and you will discover a diverse mix of industrial tools and materials every day.

Vibrant maker space within 1㎢ along industrial market
Sewoon Sangga is located in the downtown area where manufacturing information is spread widely from alley to alley. Here, the market swiftly connects people's demands, technologies and industries. No matter what people want and how they want it done, the market has the capability of producing all sorts of objects. You can make your idea come into real life. Sewoon Sangga enables you to make prototypes, develop and produce for a small scale, and get help from technical research laboratories. It is not unusual for firms to run an 'antenna shop' to evaluate customers' responses. Maker Space, which will cover 1㎢, will serve as and integrated area of resources with a high level of industrial understanding and competences.
Sewoon Chronicle

01. Modernization of Seoul after the Korean War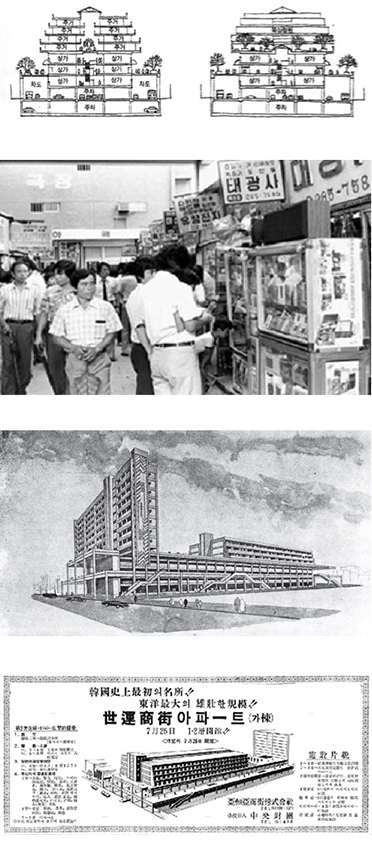 During the Japanese Colonial Period, the Sewoon Sangga(meaning a large district with seven residential and commercial buildings and its around) was left clear to prevent any fires and US bombings from spreading. Then after the Korean War(1950-53) ended, many refugees moved into this area and formed large squatter settlements. They managed to make a living by selling junk and antique goods which established a new business area. During this time there was insufficient social infrastructure in Seoul to cope with the large population influx so the city experienced significant and numerous issues such as congestion, environmental pollution and lack of housing. The Seoul Metropolitan Government strived to address such problems by building housing for its citizens and establishing basic infrastructure. In 1967, Sewoon Sangga, the first combined commercial and residential complex in South Korea was constructed.
Some of the dexterous technicians connected the ore to the receiver of the old radio to assemble and sell the radio to students. 5 pitch Super Raido, the first domestic radio to go one step further and create a vacuum tube radio. At the same time, the first step of the electronics industry began with the development of parts as they began to make basic parts such as volume and baricon. ["The Age of Warring States in the Commercial Area, Electronic Components Market", The Kyunghyang Shinmun, December 9, 1976 article]
02. The dawn of a new technology era in Sewoon Sangga
Sewoon sangga's heyday was during the 1970s when the demand for home appliances increased and it was known as Sewoon Electronics Plaza. It merged with Jangsa-dong and Yeji-dong to form a much larger electronic shopping district. Numerous radio-television engineering institutes were also established in this area and they played a key role in enticing more and more emerging engineers. It also formed a beneficial cycle of education, employment, development and business startups. Numerous innovative events, from successful duplication of the Apple 2 computer to invention of PC computers and native computer parts took place in this area, especially in the 1980s. Even some famous tech firms like 'TG Sambo' and 'Hangul and Computer' started off in this area. In the 1990s, Korean transformed into a consumption society which ushered the popular culture industry-audio, karaoke and game machines- into Cheonggye and Daelim Sangga.
03. The re:Sewoon Project, and approach to achieve sustainable urban regeneration
In the 2000s following the IMF financial crisis, giant corporations and online shopping malls became game changers and they even threatened sales of Sewoon Sangga. Yet engineers in Sewoon Sangga and Euljiro had their own unique techniques and specialized skills to produce, repair and manufacture in small sizes which were passed on and left alive and well for a long time. The engineers had another advantage. They had no difficulties in getting whatever materials they needed within the district. You can find all sorts of equipment including metal, acryl, tools, construction materials, lights and even some sound systems. This explains why custom manufacturing is more suited to Sewoon. In 20015, the Seoul Metropolitan Government launched re:Sewoon Project to revitalize this area and boost the business potential of Sewoon Sangga. It also reflects the city's pursuit of sustainable urban planning.
04. Makercity Sewoon, a blueprint for the future of urban manufacturing
Amid entering the age of the fourth industry worldwide, we are facing a new paradigm of manufacturing, through the maker culture; unique business using edge technologies easily appears even in the center of cities. In 2015, the Seoul Metropolitan Government suggested Makercity Sewoon as a blueprint for the future of urban manufacturing. It is essential the the changeover from Sewoon Sangga to Makercity Sewoon which is a new urban manufacturing platform, not only connecting existing manufacturing, commerce and local culture all within that area; trying to provide affordable housing but also creating the strategic footholds where young entrepreneurs and participate in, from making prototype to product, the process of new manufacturing based on emerging technology. There are over 7,000 businesses and 20,000 technicians concentrated in Sewoon Sangga and a lot of passionate and enthusiastic young makers seek new opportunities here. Makercity sewoon is expected to reach a bright future of urban manufacturing with the accumulated know-hows and abundant experience related to regional revitalization activities of Sewoon Sangga, Cheonggyecheon and Euljiro district.